Publish Price :Adult IDR 1.000.000, with us only IDR 150.000 ( minimum 2 persons participant
Publish Price : Child 900.000, with us only IDR 145.000 ( Children between 7-12 years old )
Note : If you paid whith USD, the price for Aduld & Child 12 USD
Morning Session
09.45 – arrive at starting point of ayung river, short briefing and change of clotch
10.00 – enjoy the Ayung rafting adventure
12.00 – rafting finish and go to finish point
12.30 – enjoy lunch buffet Indonesian Food
Afternoon Session
13.00 – arrive at starting point of ayung river
13.30 – enjoy the Ayung rafting adventure
15.30 – rafting finish and go to finish point
16.00 – enjoy meal
17.00 – meal finish and back to hotel
Location : Kedewatan – Ubud, Bali, Indonesia
Ayung rafting – Own Transport is the very best choice to take if you really want to save more money. As you get the lower price, you will get the similar service in Bali ayung rafting. In addition, if you want to enjoy the long holiday with the most challenging marine activity, you just simply come to Kadewatan village. Having arrived in the location, you take the advantages from Bali ayung rafting and you just show the voucher card in the starting point so that you will be welcomed so warm and served with the beverages.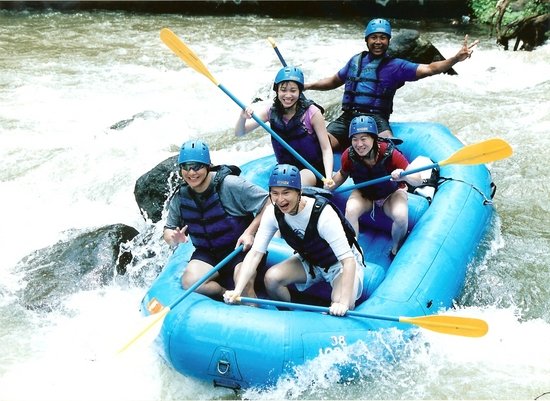 Make sure that you do not completely forget to fill out the registration forms and insurance as well. Before taking into the exciting activity, Bali ayung rafting also asks you to keep all the belongings to the locker. Make sure that you will not miss the personal equipment such as camera or money. As you have finished equipping yourself, what you have to do is going to the river side.
When all members have gathered, the professional staff will guide you and tell you what you do and don'ts as long as the activity. In this occasion, you will spend 2-hours-rafting action. As you have finished from rafting, you are urged to go restaurant or going to shower at first. In addition, changing rooms is also available before lunch.
How To Book ?
Please kindly book directly without any third party as Private Driver , Tour Guide , Hotel , Villa ,Travel Agent ( NO COMMISSION ) and Please Email , WhatsApp , CALL , SMS , to get the best Correct information at :
Call / WhatsApp : 
+ 62 81 246 558 280 
+ 62 81 246 752 478
+ 62 85 792 172 617