Tanjung Benoa is one of the marine recreation sites where people can enjoy many various water sports that spur the adrenaline. One of the most popular games that offer the excitement in the water is Bali flying fish tour. It is relatively new game that both local and foreigner should try with the use of rubber boat that is designed looks like a truly flying fish. This water sport is quite new after some other similar games such as banana boat, parasailing, rolling donut, etc.
The design resembles the fish because it is the joint of the three banana boat tube with the wing on the left and right, so that it looks like a fin. What you have to know about Bali flying fish tour is about the maximum number of the passengers is 3 persons. This is set to create the balance during the activity. In addition, thing to know is about the passenger position onto the boat is sitting like on the horseback or riding on a motorbike.
How the Bali flying fish tour work does depend on the wind speed at that time. Since the fly fish boat is pulled by the speed boat, you are going to be taken from the beach to the sea. Then, the flying fish will fly over 2 meters from the seawater. But, if you have not ever tried this game, you are not necessary worried since the professional guide will explain you all about that activity.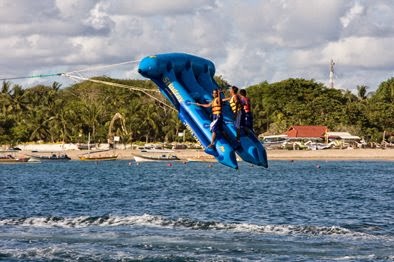 Bali Water Sports – Flying Fish Price
Min
Duration
Price
2 Pax
2 Fly
 USD 10
The activities included : Activities equipment, tax, service, shower, towel, changing room and insurance cover from 06 years old till 60 years old
What to bring : Change of Clothes, Swimming Costume and Sun Cream
Exclude : Rental camera for ducumentation & pick up hotel

Location : Tanjung Benoa Beach.
How To Book ?
Please kindly book directly without any third party as Private Driver , Tour Guide , Hotel , Villa ,Travel Agent ( NO COMMISSION ) and Please Email , WhatsApp , CALL , SMS , to get the best Correct information at :
Call / WhatsApp : 
+ 62 81 246 558 280 
+ 62 81 246 752 478
+ 62 85 792 172 617