Publish USD 100 / Person
Now ONLY USD 30 / Person
Durastion : 15 – 20 Minutes
Tanjung Benoa flyboarding activity price is for one person.
Flyboard publishes price is the price that customers will obtain. If customers make a walk in booking at the location, without creating advance booking with us.
Customers will obtain Tanjung Benoa flyboard online price if customers make Tanjung Benoa flyboard booking with us.
Include insurance
If you would like to have picked up and return transfer, free of charge. Only area Kuta, Nusa Dua & Jimbaran.
Again, again and again that Bali is popular for the night life and the natural panorama that attracts both locals and foreigners to visit and stay for several weeks. Apart from its splendor, Bali is also well-known for its water sports, since Bali itself has many beautiful beaches with calm waves to rolling billows of the sea. No wonder if you find various water sports activities such as fly board Bali that spurs your adrenaline.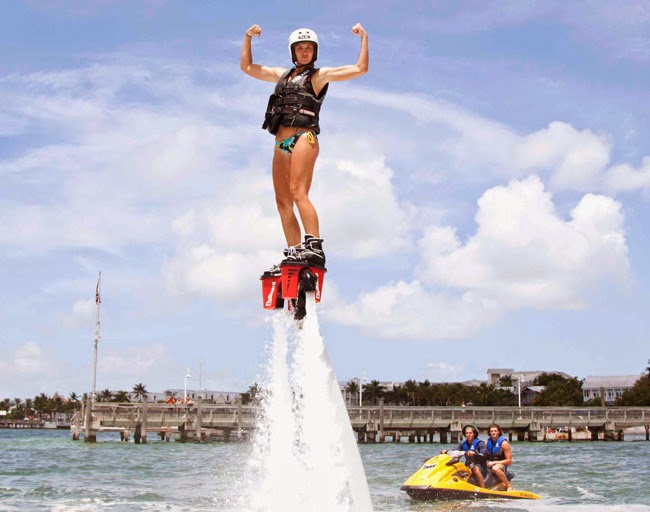 If fly board Bali activity sounds strange to you, it is strongly recommended to visit Bali and try this water sport. In this regard, fly board Bali is one of the most extreme water sport activity with the fly standing board that will be pushed up by the high pressure of water force with 200pk connected with the jet-ski.
As you fly with fly board Bali, you will be taken to 5-meter-high flight in the air or dive headlong through the sea water. If you are quite professional, with fly board Bali, you can fly at 10-meter-height. If you are not professional enough to do with this water sport activity, you are not necessarily worried since the staffs will assist you to do it.
Many visitors are quite amazed on how easy to operate the fly board. Some of newbie spend their learning time in water for 5 minutes and for 15 minutes later; you can take a control over the movements in the water. Thus, if you want to have this memorable water sport experience, it is suggested to go Tanjung Benoa Nusa Dua Bali.
Please kindly book directly without any third party as Private Driver , Tour Guide , Hotel , Villa ,Travel Agent ( NO COMMISSION ) and Please Email , WhatsApp , CALL , SMS , to get the best Correct information at :
Call / WhatsApp : 
+ 62 81 246 558 280 
+ 62 81 246 752 478
+ 62 85 792 172 617