If you like to have vacation in Bali, it is better for you to take Mount Batur Sunrise Trekking. This is such a wonderful and fun activity since you will explore amazing view of Mount Batur. Actually, it is one of active volcanoes in Bali Island. For the times being, it is becoming popular as a tourism object for local and international tourists. What will you experience? Imagine that you will walk around the sacred mountain in Bali. In addition, you will be able to see wonderful view of sunrise from the top. Don't you feel that it is interesting?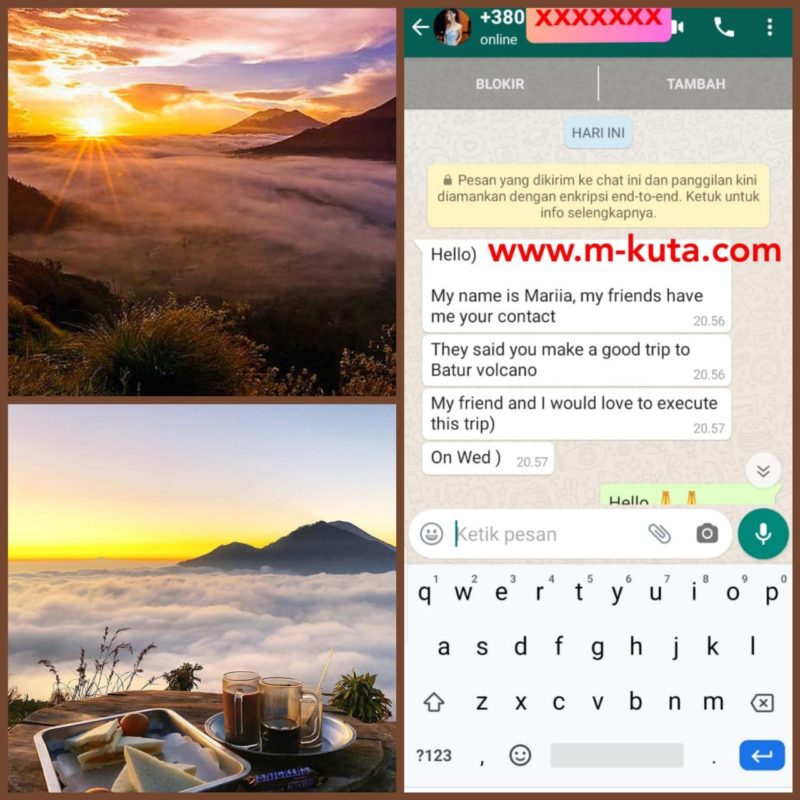 Read Here : Bali Water Sports Package Tanjung Benoa
Where Does Mount Batur Take A Place?
If you have been in Bali, you might be familiar with some places there. Have you heard Kintamani? It is quite famous tourist object in Bali. And this is a place where Mount Batur take a place.
You don't have to worry about trekking. This mountain is not quite high. Even, it is well-recommended for those who have not been doing trekking before. It is 1717 meters above sea level. And it has been estimated that you need to do trekking about 2 hours in order to get into the top of the mountain.
You might not believe if you can do it. In fact, it is easy. It is not only a not-too-high mountain. It has easy trek as well. Beginners can pass the trek comfortably. You will also see caldera there. It is called Batur Caldera. It is about 13.8 x 10 km. It is so large. Even, it is called as one of the largest calderas in the world. Because of caldera existence, the mountBromo view becomes stunning.
Read Here, " Fast Boat From Bali to Gili Islands & Lombok >>>
Hunting Sunrise from the Top of Batur Mountain
Are you ready to do trekking? You have to be ready around 3.30 am. Therefore, you have to get up earlier in the morning. It is a must in order that you don't miss the opportunity to see great sunrise.
When you start trekking at that time, you will see sun bursting out. You will be impressed by such an amazing view of caldera and Batur Lake. Mount Batur view actually is not only in the peak when you see sunrise, but also in the foot of the mountain.
Please enjoy the trekking. The view while doing trekking is stunning. It is more beautiful when you have been in the top of the mount. It seems that you are above the cloud. Just try to look around and you will see cloud overlay. It is not all. You will also be able to see the peak of Mount Abang as well. It is only the peak that you can see since the mount is surrounded and covered by the cloud.
If you start trekking at 3.30, you will not miss the chance to see sunrise. However, you should remember to bring camera with you. You don't want to miss the opportunity to take a picture with the sunrise as the background of your photo, do you? So, make sure that you take your best camera.
You have quite short time to see sunrise. After that, you can have breakfast of fruit and boiled eggs. It will you a great experience since the egg is not cooked in the usual pan and stove but in the volcano steam. You can have breakfast while enjoying sunrise. Isn't that wonderful?
Spectacular View along the Trekking
2-hour trekking is not short. For those who are the first time doing trekking, it must be exhausting. Indeed, you might be so exhausted. Nevertheless, you will not feel bored. Do you know why? It is because of the view you can enjoy during trekking.
Possibly, you will not be thinking about trekking. You will not be thinking about sunrise. It is due to the fact that you have met beautiful view along the way to get into the peak of the mount. The Kintamani and Mount Batur look wonderful with mesmerizing nature. There is rice field, volcano landscape, green giant trees, and many more. And great thing that is felt by most of tourists are villagers since they will pass traditional village. They will meet and do interaction with local people.
Most of the people there are farmers. They don't only plan rice but also various plants like onion, chilies, and cabbage. If you have time, you can take to the local people, take a picture of them while planting, and so on.
You shouldn't worry about communication. The guide will accompany you. Therefore, if you like to communicate with local people but you cannot speak Indonesian Language, don't worry. The guide will be your translator. The guide is local person as well. Therefore, he knows well about the trek. Besides, he also will give you a lot of knowledge and information that you possibly cannot find in internet or book.
So, when will you visit Bali? Try not to visit regular place like Kuta Beach. Even, if you have been so many times visiting the beaches in Bali, be different. Make your vacation in Bali totally different. Forget about the beach and try to go to mountain.
Bali is not always about beach. There are amazing mounts there, not to mention Batur Mount. It is such a challenge for you to conquer Batur. So, are you ready?
Make sure that you fit enough. Take comfortable outfit for trekking and you will truthfully enjoy the trekking. You have to know that Mount Batur temperature is quite cold. Even you have to do trekking early in the morning before the sun rises. Therefore, you might need to wear a jacket. The climax is that when you arrive to the top of the mountain. Sunrise is waiting for you.
How much money do you need to prepare? It is not quite a lot. It is worth it with what you will experience during trekking. The cost depends how many people with you. Contact us right now. You can call us right away. We will provide any information you might need about Mount Batur Sunrise trekking package.
Mount Batur Sunrise Trekking Package & Special Prices 
Mount Batur Sunrise Trekking Price for Pick Up Bali Area (Nusa Dua, Kuta, Seminyak, Canggu, Ubud Uluwatu, Sanur & Jimbaran )
Sharing Tour
Pick Up Ubud Area ( IDR 350.000/Person )
Pick Up Uluwatu, Nusa Dua, Jimbaran, Kuta, Canggu ( IDR 600.000/Person )
Morning Trip (Early Morning):
Nusa Dua and Jimbaran: 01.00 – 01.15
Kuta, Seminyak, Legian: 01.15 – 01.30
Canggu: 01.15 – 01.30
Sanur: 01.30 – 01.45
Ubud: 02.00 – 02.15
Itenerary Trekking Only
01.00 – 02.00 (Early Morning): Depart or pick up time (subject on your hotel location)
03.00a am :  Breakfast ( fried banana + hot coffee )
03.45 am : Arrived at the starting point trekking, intruduction and safety precedure briefing by our experience professional hiking guide ( association of mount batur trekking guide )
04.00 am : Begin our climb/trek to mount batur
04.20 am : Continue our climb / trek to the summit crater
06.15 am : Arrival at the summit crater, where we witness the spectacular view and sunrise. While there we enjoy refreshments of breakfast box
07.00 am : Continue our trek around entire crater
08.00 am : Begin our descent the finishing point of our trek
09.00 am : Arrive back at finish point abd board car
09.30 am : Could stop at femous of coffee plantation
10.00 - 10.30 am : Return arrival at your hotel
Air-Conditioning Car or Mini Bus for hotel pickup & return
Professional Trekking Guide
Entrance Fee For Mount Batur Trekking
Mineral Water
Breakfast on The Top of Mount Batur
Flashlight
Parking Fee
Personal Expenses of Yours
Hiking or Sport Shoes
Backpack
Jacket or Warm Clothes
Long Pants or Short Pants
 Camera or Phone
Make it easily! Order, get picked up and enjoy the tour!
Please kindly book directly without any third party as Private Driver , Tour Guide , Hotel , Villa ,Travel Agent ( NO COMMISSION ).

Please write the FORM BOOKING in below:
– Name :
– Email :
– Tour or Activity Request :
– Date of Tour or Activity Request :
– Participant Number (How Many Person):
– Hotel Pick Up (Hotel Name & Address) :
– Name as Your Room Reservation :
– Room Number :
– Mobile / WhatsApp Number :
Then Send Form Booking via whatsApp. Just click : https://wa.me/6289670430519
Thank You For Your Order!! Ready for Traveling With Us!!
Search : Mount Batur Sunrise Trekking